so, while reading spools' entry in the pettition thread <a href="http://forums.kyhm.com/viewtopic.php?p=309849#309849">HERE</a>, i was reminded of my long-term dreams of making and participating in a community-created webcomic made by the people, for the lulz. And instead of leaving it as a pipe dream, i figured i'd just go ahead and fucking do it.
So what is it and how does it work?
It's a comic that will initially be hosted here on the forums - perhaps in this very thread. (at least to start with)
The contributors will be anyone willing to submit anything they make - in any media from still images to animations to words to goddamn songs if you like. Comics can be aything you've drawn in any medium, photo manips, or funny macros if you like. The only stipulations is that you somehow created or changed or manipulated whatever you submit, and acknowledge/link sources where you can. All artistic competencies accepted, so only being able to draw stick figures is no excuse. The submission of ideas for stips is also acceptable, as one of the more artistically minded may draw/animate/record/manip it themselves.
You submit by finding hosting for your creation - be it here on kyhms or elswhere on the web - and then making a post in this thread with either the submission on display or linked - that easy.
Also, if you include a little bit of extra information for the submission it will fill out nicely thus -
NAME:
Benimaru is such a fag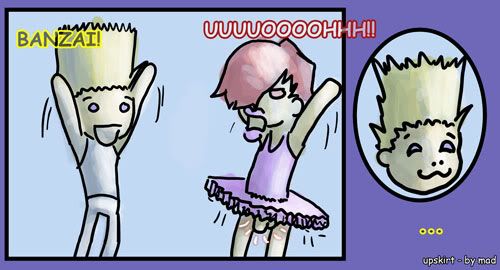 ARTIST(S):
madadric
SOURCES:
Charachters benimaru and iori from SNK's King Of Fighters franchise
NOTES:
A follow up comic to a pic of iori i did in a tutu, with benimaru staring at his junks. Benimaru is such a fag. look at him!
Code:

[b]NAME:[/b]

content/link here

[b]ARTIST(S):[/b]
[b]SOURCES:[/b]
[b]NOTES:[/b]

I'll be saving and archiving all the content so that if we do make a seperate website at a later date or if somethign happens, there will be a central copy. I have other ideas for if it were to be a more cohesive project, but these are for down the line when we find out if this dog can hunt first.
so please, discuss! submit! come up with a cooler name!